Voting Members
The role of the education technology board is to judge and select the winners of the Bammy Edtech Awards. The Education Technology Board is comprised of respected and influential connected educators and edtech specialists who are passionate about education technology and have their fingers on the pulse of which apps, teaching tools and web site resources are most popular with educators and school districts across the nation.
Tom Murray serves as the State & District Digital Learning Policy & Advocacy Director for the Alliance for Excellent Education out of Washington, DC. Currently, he works alongside state education departments, corporations and school districts throughout the country to implement digital learning and helps to oversee Project 24 and Digital Learning Day. He was the recipient of the Blended Schools Network Leadership Award, named one of the top 16 "forward thinking EdTech leaders in the country," named one of the "Top 100 influential voices in education," and has been featured in Tech & Learning Magazine's Leadership Profile. Murray's QCSD cyber and blended learning programs have been highlighted by Forbes.com, T.H.E. Journal, District Administration Magazine, Project Red, Tech & Learning Magazine, the Innosight Institute, and on Digital Learning Day in both 2013 and 2014, among others. Murray is also the founder of #edtechchat, a weekly educational technology Twitter forum, where hundreds of educators from around the world discuss digital learning. Tom hosts #Edtechchat Radio on the BAM Radio Network and is a member of the BAM 100.
Susan M. Bearden is the Director of Information Technology at Holy Trinity Episcopal Academy in Melbourne, FL. As a technology leader, she strives to leverage technology to improve educational and business outcomes and provide teachers and students with the support, tools and training needed to help them become responsible digital citizens and 21st-century learners. She has presented at a number of national and state conferences, including ISTE, FETC, CoSN, and the Florida Council of Independent Schools (FCIS). A frequent guest blogger, she is a contributing author to the Huffington Post and was ranked #9 on their list of "The 50 Most Social CIOs on Twitter." Bearden co-founded and moderates #edtechchat and is a board member of Get Social Brevard. Connect with her on Twitter at @s_bearden and @HTEATech or at www.susanmbearden.com. Susan is a member of the BAM 100.
Alex J. Podchaski serves as the Director of Technology at Oak Knoll School of the Holy Child in Summit, NJ. He was the first in New Jersey to earn the Certified Educational Technology Leader (CETL) designation from CoSN, which is based on a framework of essential skills for a K12 CTO. With over 20 years of higher education and K12 experience in technology planning and implementation, Alex offers a unique perspective in bringing technology into the world of learning. Alex co-founded and moderates #edtechchat and is involved with CoSN's Small District initiative. Connect with him on Twitter at @ajpodchaski. Alex is a member of the BAM 100.
Sharon Plante is Director of Technology at Eagle Hill - Southport in Southport, CT. Beginning her career working with students with learning disabilities, the road led to the use of technology to engage learners in alternative ways to support achievement. Technology is in her blood and the edtech avenue is an ongoing pursuit to address the needs of all learners, especially those with learning disabilities. Sharon continues to strive to utilize technology to support and enhance the development of skills and access to content, while implementing a BYOD and 1-1 iPad middle school program within @EHSSouthport. She has presented at Everyone Reading and ICON2013, while additionally organizing an inaugural #edcampehsthpt for Summer 2013 and working with Fairfield University Educational Technology Program to develop a tech-based professional development expert series, #edshareehsthpt this summer that is open to all educators. Sharon posts regularly to the Connecticut Association of Independent Schools, as well as Teacher Cast and her own blog She is excited to be a co-founder and moderator of #edtechat and is part of the BAM100.
Katrina Stevens is an educational consultant and journalist with over 20 years experience as a teacher and administrator. Ms. Stevens has extensive experience designing curricula, conducting professional development, designing, reviewing and integrating education technology, writing and managing grants, project and program management, and developing teachers and leaders in both public and independent school settings, in addition to over twenty years teaching experience. She also writes regularly for SmartBlog for Education, Edsurge, and for her own blog, Education Matters, and she co-founded and co-moderates #edtechchat and #MDedchat. Katrina serves as a Startup Weekend EDU facilitator as well. Katrina co-hosts Edtechchat Radio on the BAM Radio Network and is a member of the BAM 100.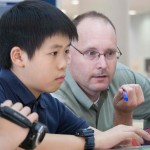 Michael Boll is an Apple Distinguished Educator, a podcaster and technology coach at Concordia International School Shanghai. Michael enjoys helping educators, parents and students harness the transformative powers of technology. Michael is an enthusiastic instructional designer and presenter. He works to make his courses and presentations information packed, slightly provocative and fun. Michael has a teenage son with profound autism and is keenly interested in the special needs community and its population of diverse learners. This interest led Michael and his wife, Lori Boll, to open an innovative school in Shanghai (ShineAcademy.asia) for their son.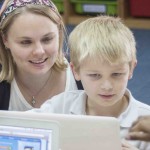 By day, Jamie Willett is a technology integrationist, elementary teacher, math specialist, and STEM coach. But by night/sometime in the mid-afternoon, she is an aspiring edtechpodcast host. Born in the wilds of Hong Kong (or somewhere not too far from downtown Central), educated in the tropics of Taiwan, she attended the University in Minnesota, where along with her degree, she learned how much she hated being cold. As soon as she graduated, she returned to Asia to teach elementary school for four years before becoming the elementary technology coach at Concordia International School in Shanghai. If she were really a superhero, her super power would be stopping time, Zac Morris style. For more information check:
http://about.me/jamie.willett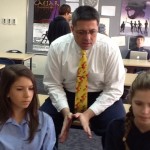 Chris Carter has worked as a high school teacher in the United States and China for fifteen years, as well as working as an education technology coach since teaching overseas. Chris currently occupies both roles, as well as the role of high school social science team leader at Concordia International School Shanghai. Chris is a contributing editor to the ICT in Practice magazine and is an "expert" for Horizon Report's NMC Technology Outlook - International Schools in Asia. He is also an ISTE presenter, where he walks teachers through the process of using technology to assist in primary resource research in the classroom. Chris finds great satisfaction working alongside teachers and students as they seek ways to implement technology that makes their practices more efficient and effective. Producing the Concordia Ed Tech podcast with his tech-coaching colleagues is a high point of Chris's weekly routine. Chris is currently focusing on flipping classrooms, implementing digital literacy metrics, exploring LMS initiatives, creating online PD content, and researching the latest and greatest in the field.